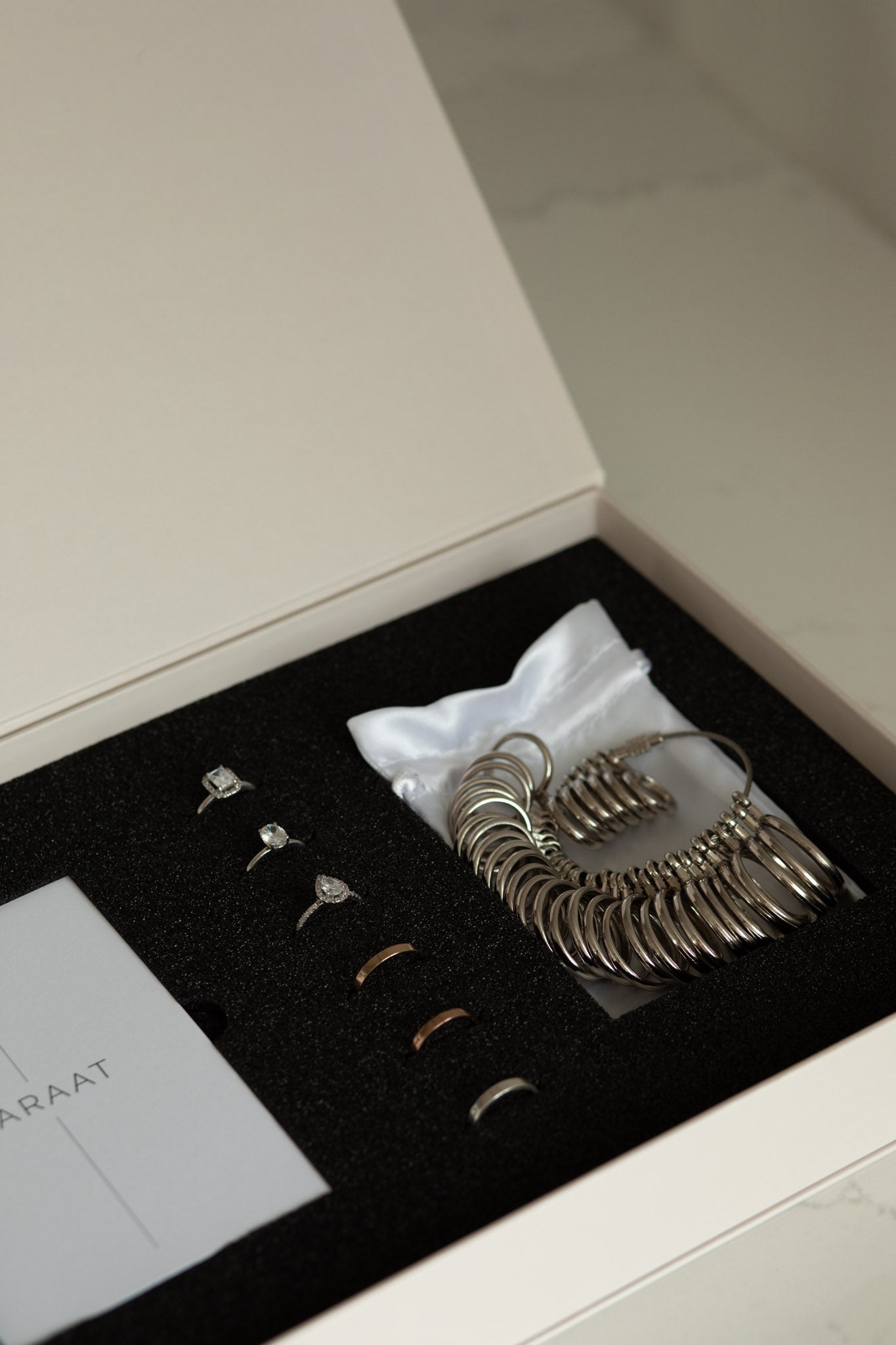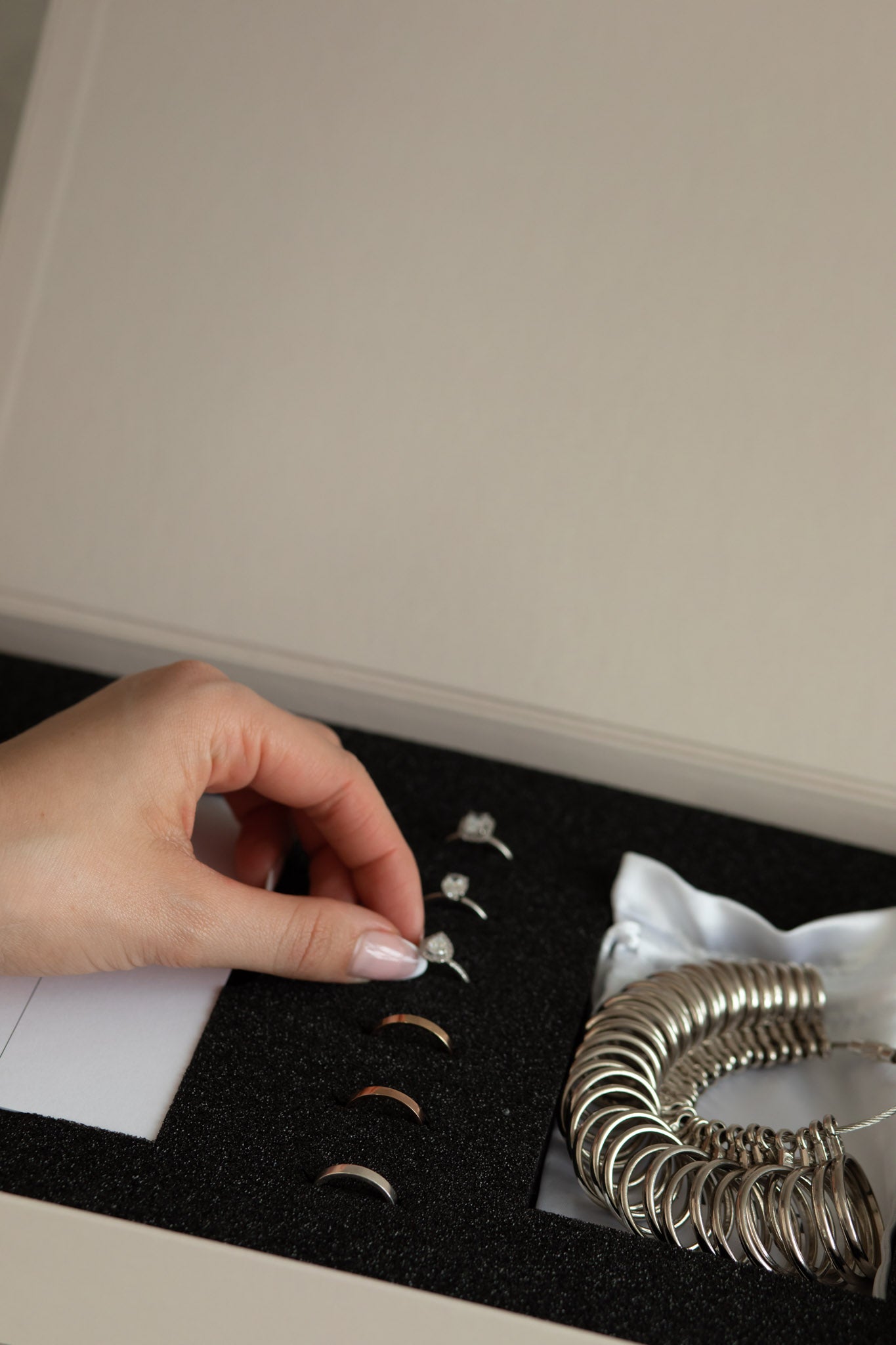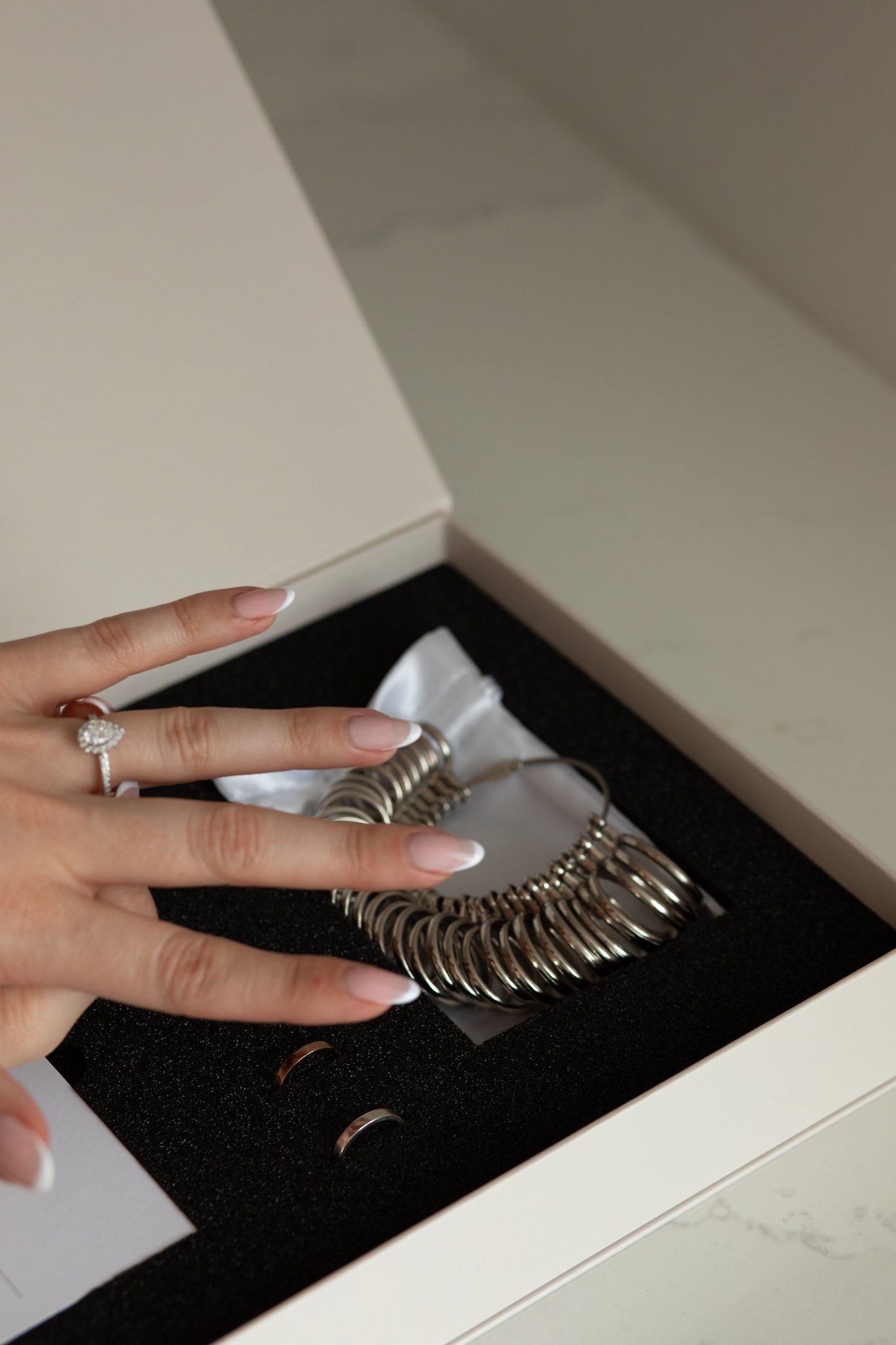 Description
How it works
Shipping
 A kit to try on up to three rings for 7 days in the comfort and safety of your home.
1. Compare ring designs here.
2. Pick one to three of your favorite designs. When ordering, we will take a 100EUR deposit which will be returned in the form of store credit eligible for any purchase from our Wedding & Engagement collection when the kit has been returned to us.
3. Once you have received the sample rings, compare, adore, take pictures, and fall in love with your dream ring!
4. Return the kit within 7 days from receiving it to receive full store credit.
We are currently only shipping Home Try-On packages in the Nordics. Send us a message at contact@karaatjewelry.com to inquire about shipping to other locations.

Please note that there may be a small delay if the ring of your choice is being adored by someone else.
FAQ
Which rings can I try on at home?
The Home Try-On kit is made for trying on any rings from our Wedding & Engagement collection. The concept is great for trying out different designs and center stone sizes, all which are available as sample rings for the Home Try-On package. Please note that only sample rings with a 1ct center stone or smaller are available for the Home Try-On kit at the moment.
What are the sample rings like?
Our sample rings are made of silver and Svarowski crystals in size 17,5. While they represent our designs, they are not 100% perfect like our final rings that are made of solid gold and diamonds. If you have questions about a sample ring, don't hesitate to contact us at contact@karaatjewelry.com.
What happens to my Home Try-On payment?
When ordering the Home Try-On kit, you will pay a deposit which you will receive fully back in the form of a discount code, as long as the kit has been dropped off for return within 7 days from the date of delivery. You can use the discount code towards any purchase from our Wedding & Engagement collection.
Can I try the rings in different gold colors?
While we have an extensive collection of sample rings to try on, they are only available in silver. You will however receive yellow, white and rose gold colored plain bands with your Home Try-On package for comparison.
Shipping & returns
Fast shipping
Your Home Try-On order will be processed within 1-2 days from order date and shipped with a 2-5 day delivery.
Return within 7 days
Make sure to return your Home Try-On package within 7 days from the date of delivery. If you received your package on the 1st day of the month, you should return the kit on the 7th day. By returning the package on time you will receive a full refund as store credit towards any purchase from our Wedding & Engagement collection.
18-karat solid gold
All our jewelry is made from solid 18K gold, the highest gold rate that can be used in jewelry. With solid gold, you won't have to worry about the color of your jewelry changing over time or rubbing off. 18-karat gold is durable and last for a lifetime.
Sustainably created diamonds
Modern luxury should be built with modern materials that are all ethical, of high quality and made with no exceptions. The diamonds used in our jewelry are created in laboratories by environmental and ethical principles so you can wear luxury with a clean conscience. All diamonds have a D-F/VVS-VS grading for the brightest possible shine and sparkle.
Thoughtfully crafted
Designed in Finland and hand-made in Italy by talented goldsmiths, we have put great effort into creating a perfect combination of modern and minimalist and timeless design with the best execution.
Learn more