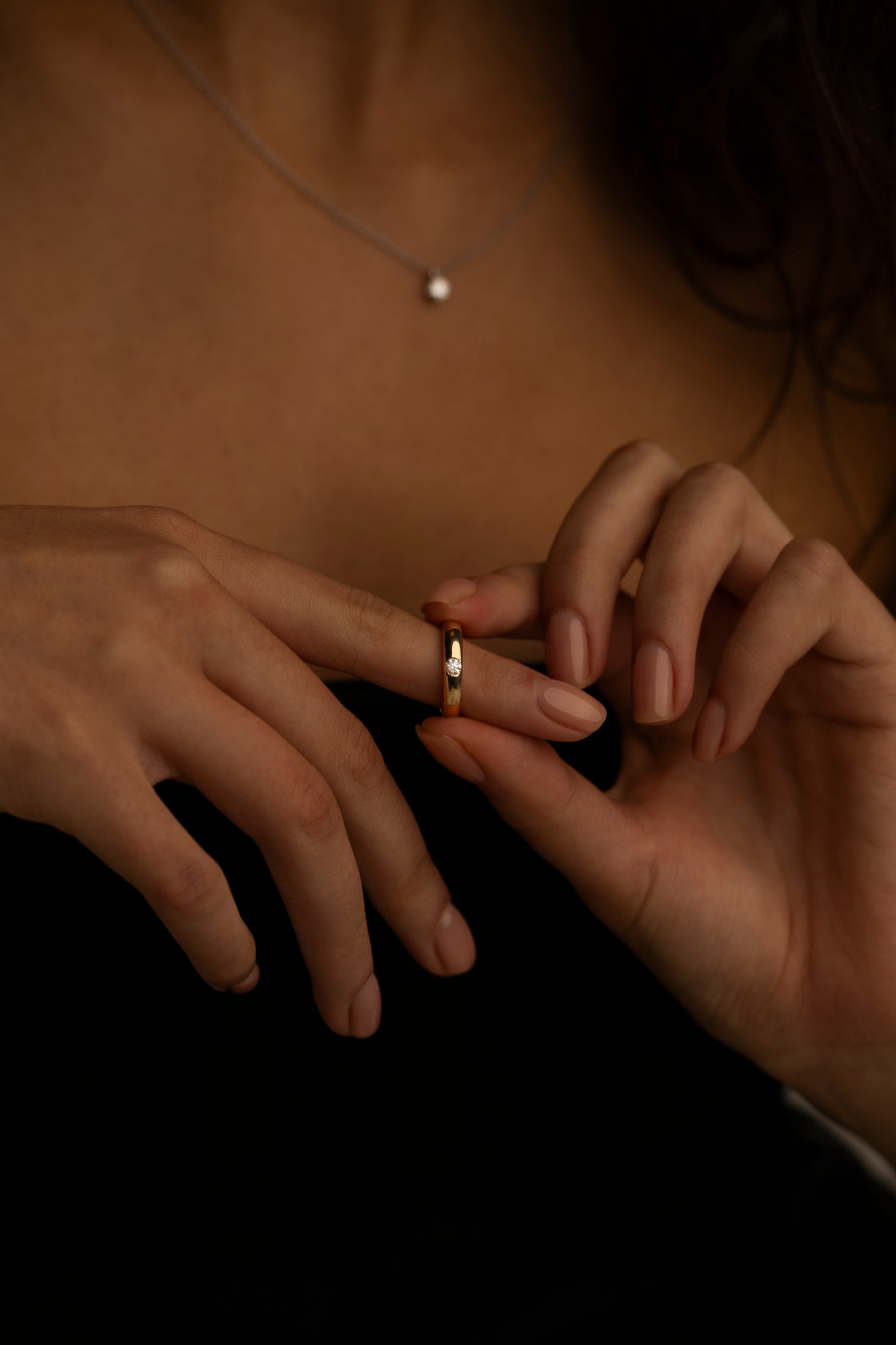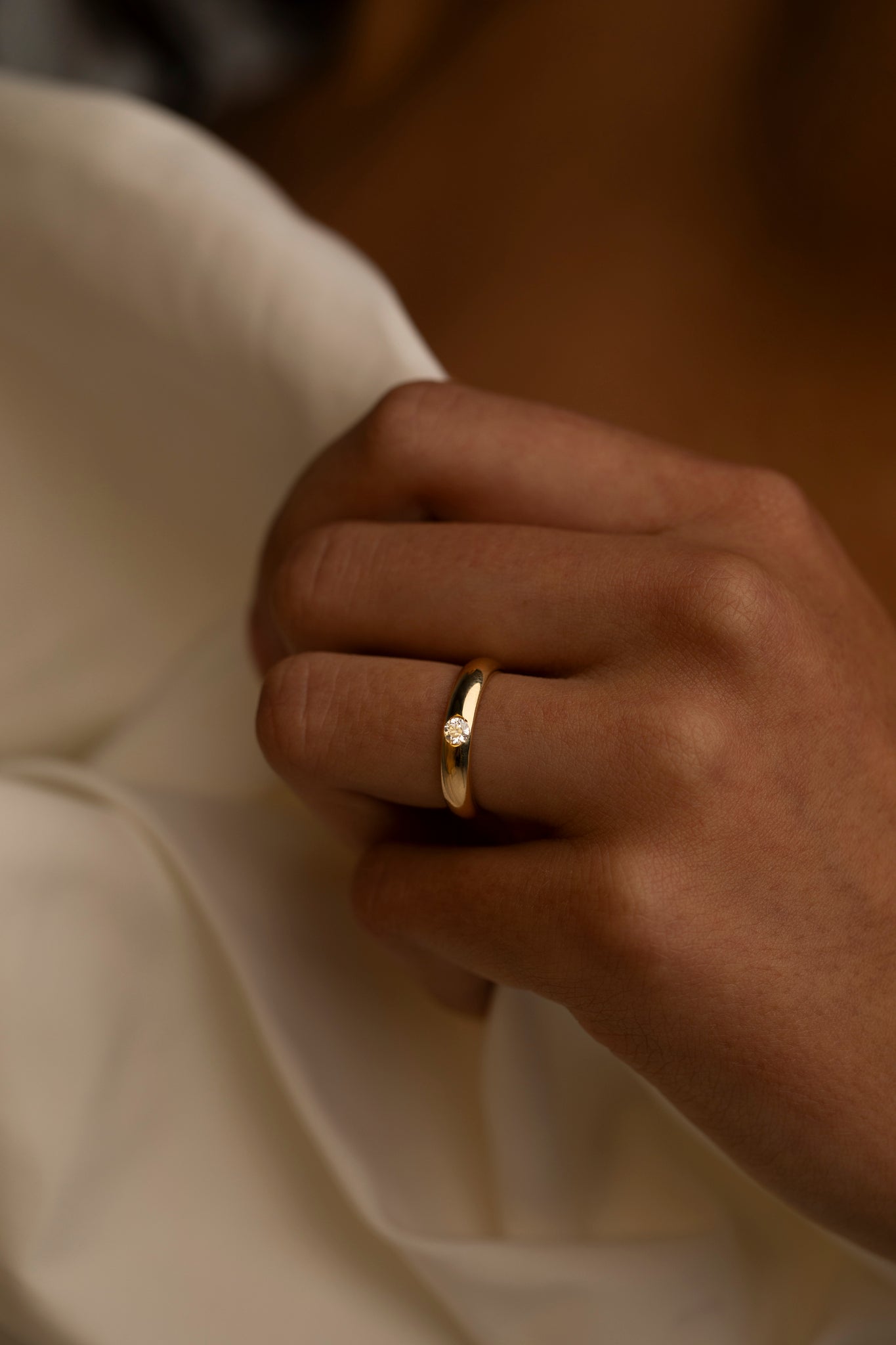 Description
Sleek and elegant, the Ellipse Diamond Ring's rounded and polished surface gives it a graceful appearance. With a vibrant hue provided by 18-karat solid gold and a 0.1ct lab-grown diamond, the Ellipse Diamond Ring adds a touch of sparkle to your ring stack. Bold enough to wear alone, sleek enough to stack with other rings – especially with our Pavé Eternity Rings.
• 18K recycled solid gold
• One lab-grown 3mm round diamond
• D-F color, VVS-VS clarity  
The Ellipse Diamond Ring is made-to-order with a 2-4 week delivery. Please make sure you order the right size as this ring cannot be resized.
Details
Sustainably created diamonds
Our diamonds are ethically sourced from suppliers who follow conflict-free and socially responsible practices.
18K solid gold
Our 18k solid gold pieces are made to last forever. Since gold is one of the least reactive metals, it scratches less and doesn't wear out as easily. 18k gold will not oxidize or discolor, so you can wear your jewelry every day, everywhere.
FAQ
Can your jewelry be customized?
All our jewelry can be altered to some extent. Would you like a slightly larger diamond or a longer chain? Send your questions and requests to contact@karaatjewelry.com, we're happy to help.
Where is your jewelry made?
All our jewelry except for wedding and engagement rings is hand-made by talented goldsmiths in Milan, Italy and designed in Helsinki, Finland.
How should I take care of my fine jewelry?
If you wear fine jewelry regularly, we recommend cleaning it once a month. Follow the instructions on our Care Guide.
Shipping & returns
Made-to-order
Our rings are hand-crafted for each order, so allow longer time for delivery. In general, the standard delivery time is 4 weeks from the date of order (note that our Eternity Rings, Pavé Dome and Three Row Pavé Ring require 5 weeks for delivery), but you can opt for a 2-week express delivery for an additional fee at checkout. You can read more about our shipping policy here.
Free 30-day returns
You can exchange and return any orders for free within 30 days from delivery date. Just get in touch with us at contact@karaatjewelry.com or read more about our return and exchange policy here.
18-karat solid gold
All our jewelry is made from solid 18K gold, the highest gold rate that can be used in jewelry. With solid gold, you won't have to worry about the color of your jewelry changing over time or rubbing off. 18-karat gold is durable and last for a lifetime.
Sustainably created diamonds
Modern luxury should be built with modern materials that are all ethical, of high quality and made with no exceptions. The diamonds used in our jewelry are created in laboratories by environmental and ethical principles so you can wear luxury with a clean conscience. All diamonds have a D-F/VVS-VS grading for the brightest possible shine and sparkle.
Thoughtfully crafted
Designed in Finland and hand-made in Italy by talented goldsmiths, we have put great effort into creating a perfect combination of modern and minimalist and timeless design with the best execution.
Learn more