Your Guide to wedding & engagement rings
With all the beautiful diamonds and numerous amount of options out there, it can sometimes get a little overwhelming. But, if you are looking for a diamond ring (or any other jewelry) that is sustainably created, long-lasting and high quality, you've come to the right place. At KARAAT, we proudly offer high-quality lab-grown diamonds made by ethical principles, and valuable recycled solid gold which will last beautifully as years go by.
With the help of our guide and our experts, we hope you'll be able to make an informed decision and sustainable choice to celebrate yourself or your loved ones.
Set your budget
When it comes to diamonds, there is an option for every budget. What is the right amount to spend on a diamond ring? you might think - instead of rules we at KARAAT believe the right amount is whatever feels the most comfortable to you and fits your personal and financial preferences.
Determining a budget that you're comfortable with will help determine the range for suitable carat weight, color and clarity. To maximize carat weight within a budget you might opt for lower color and clarity grade, whereas if you'd like to find a balance between all the 4Cs, you'll be able to find an option for that too. Our wedding and engagement rings are available in three different quality categories to fit a wider range of personal and financial preferences: Good, High and Excellent.
While diamond size and quality together with the ring setting will have the most impact on the total price, you can confidently look to us for prices that don't include middlemen costs and are more affordable than traditional retail prices. You can read more about our pricing here.
For guidance and recommendations based on your budget, you can always reach out to our experts who can help you out choosing the right fit.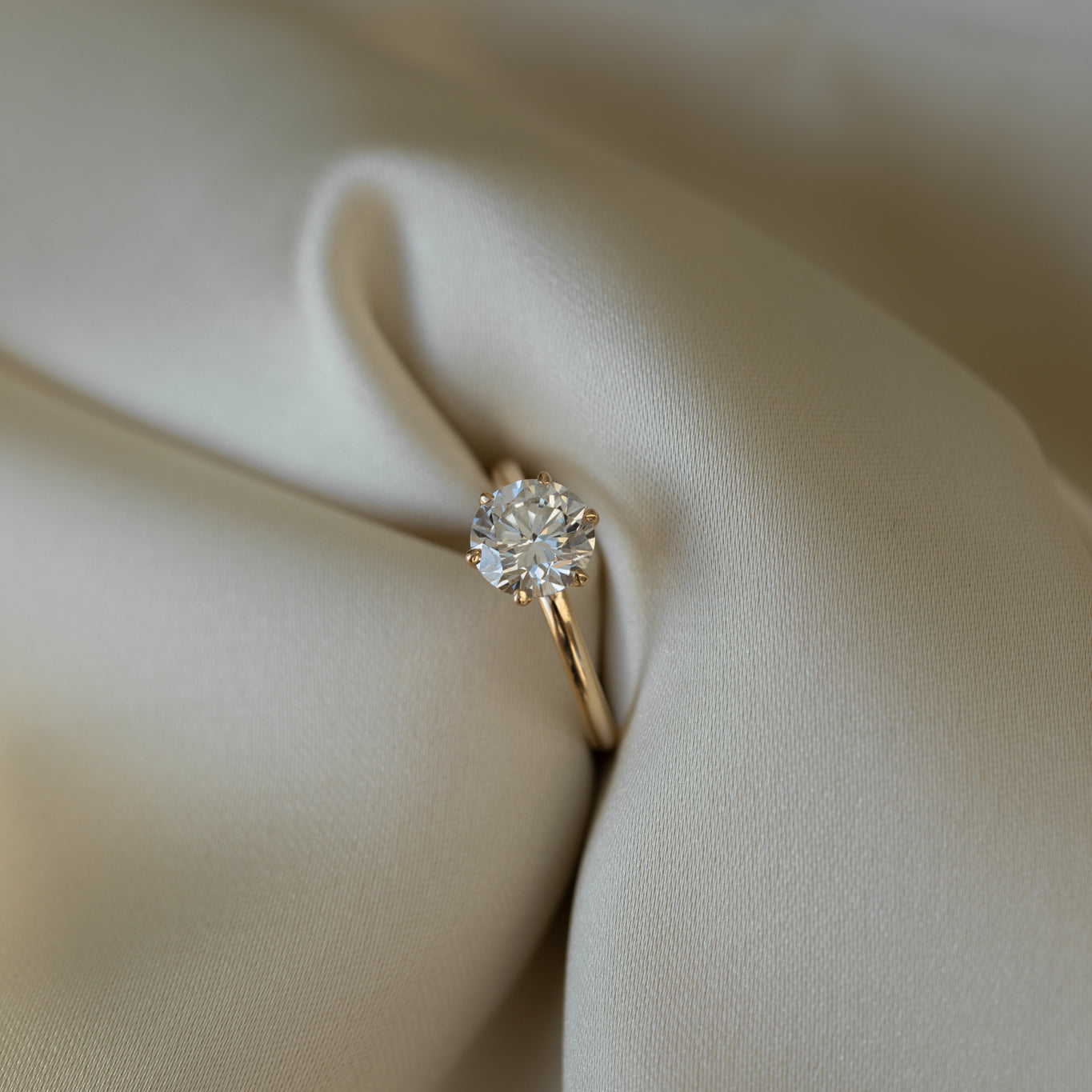 Choosing the shape
The shape of the diamond - not the same as cut which refers to the facets that make up the brilliance and fire of a diamond and can be graded as well as clarity and color - has the biggest impact on the overall look of a ring. Whether you're looking to buy a ring for yourself or your loved one, it can be easier to pick out the right shape if you can identify their individual style and taste.
In our current collection, you can choose from four carefully picked shapes: Round, Oval, Emerald, Pear, Cushion, and Radiant. Each of them is unique and gives a different feel, making it easy to pick out the perfect shape for any look and finish.
Round

For a timeless and elegant look we recommend going for a round-cut diamond that shows the most fire and brilliance of all diamond shapes. A round diamond is traditional and classic - no wonder it is the most popular diamond shape in the world.
Oval

Oval is one of our most-loved diamond shapes in engagement rings with its soft yet sleek silhouette. The oval diamond elongates the finger and in fact, looks bigger than its carat weight thanks to its generous surface area. If your budget matches better to smaller carat sizes, the oval and pear shape present a good match for those who'd prefer their diamond to make a slightly bigger impact.
Emerald

An emerald diamond features step-cut facets running down the sides to draw attention towards the center of the stone. These long, symmetrical and narrow facets add depth and dimension, while drawing in light and spotlighting clarity, making this shape look modern and elegant.

Because of the emerald shape's clean and open look, we recommend prioritizing clarity and going for VS or higher grades, as the step-cut facets can make the natural inclusions of the stone more visible.
Pear

Such as the oval shape, the pear diamond appears larger and has a bigger impact than diamonds of the same carat weight thanks to its generous surface area. This particular shape is unique but highly versatile, great for all looks from modern to classic to vintage looks.
Cushion

A cushion-cut diamond has a plush look thanks to it rounded corners, resembling a pillow or cushion. This shape has been gaining popularity due to its vintage-inspired look, which fits well with antique and romantic styles. Cushion-cut diamonds can have a variety of facet patterns, but their distinct cut usually results in a more subtle sparkle.
Radiant

With its square or rectangular silhouette and trimmed corners, the radiant shape combines the brilliance of a round cut with the sleek lines of an emerald cut. This unique combination creates a visually striking and modern appearance.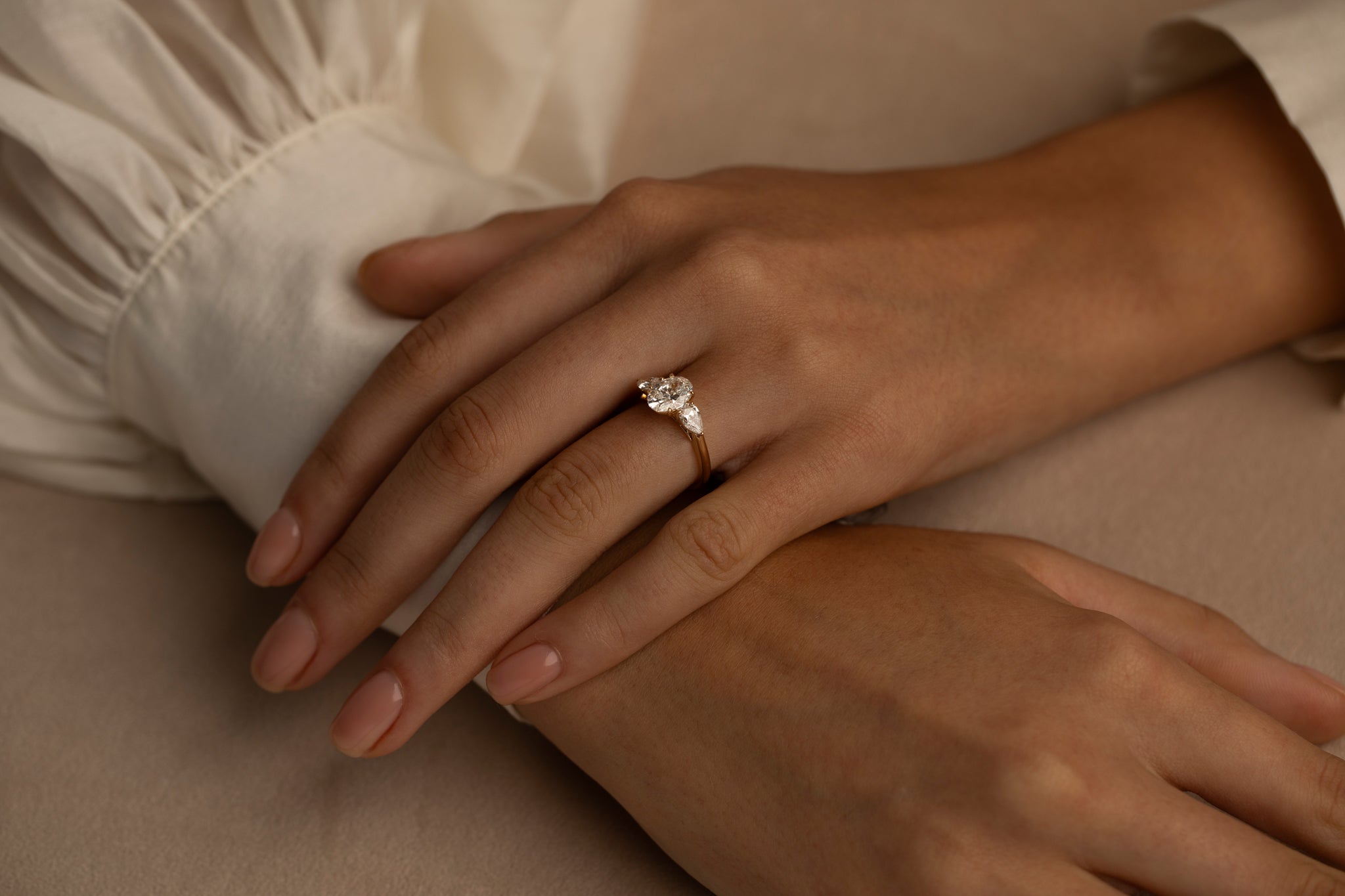 Know the 4Cs
While all diamonds are unique and have their own characteristics, they are evaluated according to the 4Cs: Cut, Clarity, Color and Carat weight. Examining the 4Cs is a great way to getting a sense of the value of a diamond and finding the best fit for both cost and quality.
Depending on the diamond shape, we recommend emphasizing some Cs more than others. An emerald-shaped diamond will show inclusions more visibly than a round one which is why we recommend prioritizing clarity and color over carat weight for emerald diamonds. When choosing the best combination of 4Cs, you should also consider the gold color of your ring. White gold bands can give a diamond with a lower color grade a bright, whiter look while a yellow gold ring can bring out the yellow tones in the same diamond.
All our diamonds have a cut grade Excellent so you can choose any shape and be confident that the feature you decide to prioritize comes to life beautifully.
To better understand the 4Cs and their effect on the diamond's value, you can read more below or get in touch with our experts.
Choosing the design
Our rings are made with a classic four or six-prong solitaire setting which you can customize with a halo, pavé-set diamonds or a combination of both for a uniquer look and feel. When choosing the right style and settings, keep in mind what type of wedding band will be combined with the ring - or if there will be one at all.
Read below and find out your perfect fit for setting and design.
The Solitaire

Choose the Solitaire ring which features just one diamond for someone who has a minimal and classic taste. As a star of the show, you might want to prioritize for example brilliance with a round or oval shaped diamond as extra emphasis is placed upon the diamond. A beautifully cut diamond combined with a solitaire setting will allow the stone to catch as much light as possible and emit infinite sparkle.
The Solitaire with Halo

For someone romantic and who prefers a ring with more impact, go for the Solitaire with Halo. The carefully placed diamonds in the halo give center stone a larger look and add extra sparkle from all directions. A halo is an excellent way to uplift a diamond of lower quality and elevate a high-quality diamond even more.
The Solitaire with Pavé band

Another way of adding more sparkle to your ring is choosing pavé-set diamonds along the band which beautifully highlight our delicate rings. Our Solitaire with Pavé band rings does an amazing job of adding more shine to your ring without taking the spotlight away from the center stone. The pavé-stones are a perfect addition to someone contemporary yet timeless and who can't get enough of sparkle.
The Solitaire with Pavé band and Halo

For maximum light and brilliance, our Solitaire rings with Pavé band and Halo do the job. Pavé-set stones in the band combined with a diamond halo will give the ultimate extra effect to someone who wants it all. This particular design will look beautiful for all diamond sizes - even smaller carat sizes will make an impact boosted by all the additional sparkle.
The Six Prong Solitaire

The Six Prong Solitaire diamond ring is a classic and timeless style that is perfect for someone with a minimal and traditional taste and who wants the diamond to be the star of the show. The six prongs provide a secure setting while allowing for maximum light exposure to enhance the brilliance of the diamond. The Six Prong Solitaire ring is available in round and oval center stone shapes as well as with a plain shank or one with pavé-set diamonds.
The Cathedral

Opt for the Cathedral diamond ring if you appreciate both traditional elegance and architectural grace. This ring style, known for its elevated silhouette, perfectly cradles the diamond, adding both support and an extra touch of elegance. The raised setting not only enhances the diamond's visibility but also allows light to play beautifully around the stone, intensifying its brilliance.
The Trilogy

The Trilogy diamond ring combines deep symbolism and exquisite elegance. This ring, featuring a trio of diamonds, represents a journey of love – past, present, and future – making it a profoundly meaningful choice. The central diamond, complemented by two slightly smaller stones, creates a harmonious balance and a beautiful display of brilliance. Perfect for someone who values both the sentimental and aesthetic aspects of jewelry.
Finetune the details
One of the last few things to decide come down to the color of gold, choosing the correct ring size and letting us know if there are any special details you'd like to include in the ring.
Gold color
Our rings are always made of high quality 18-karat gold which is the highest value that can be used in jewelry. Our gold is 100% solid, never plated or filled, and it will last beautifully as long as it is taken care of and treated well. You can choose your ring to be made of yellow, white or rose gold.
Ring size
Our wedding and engagement rings are available in quarter sizes, guaranteeing you'll be able to find just the right fit for yourself. If you don't know your ring size, you can order our Ring Sizer or our Home Try-On kit which not only enables you to try our rings at home but also to measure your ring size with our sizing tool.
The alterations
If there are small details you'd like us to take into consideration in your order, don't hesitate to get in touch with us about them. Would you like your ring to be made of platinum or have it engraved? Do you prefer a lower setting for the center stone or want to make sure the ring sits flush with another ring? We make small alterations often free of charge, so feel free to get in touch with our team and tell us what is on your mind.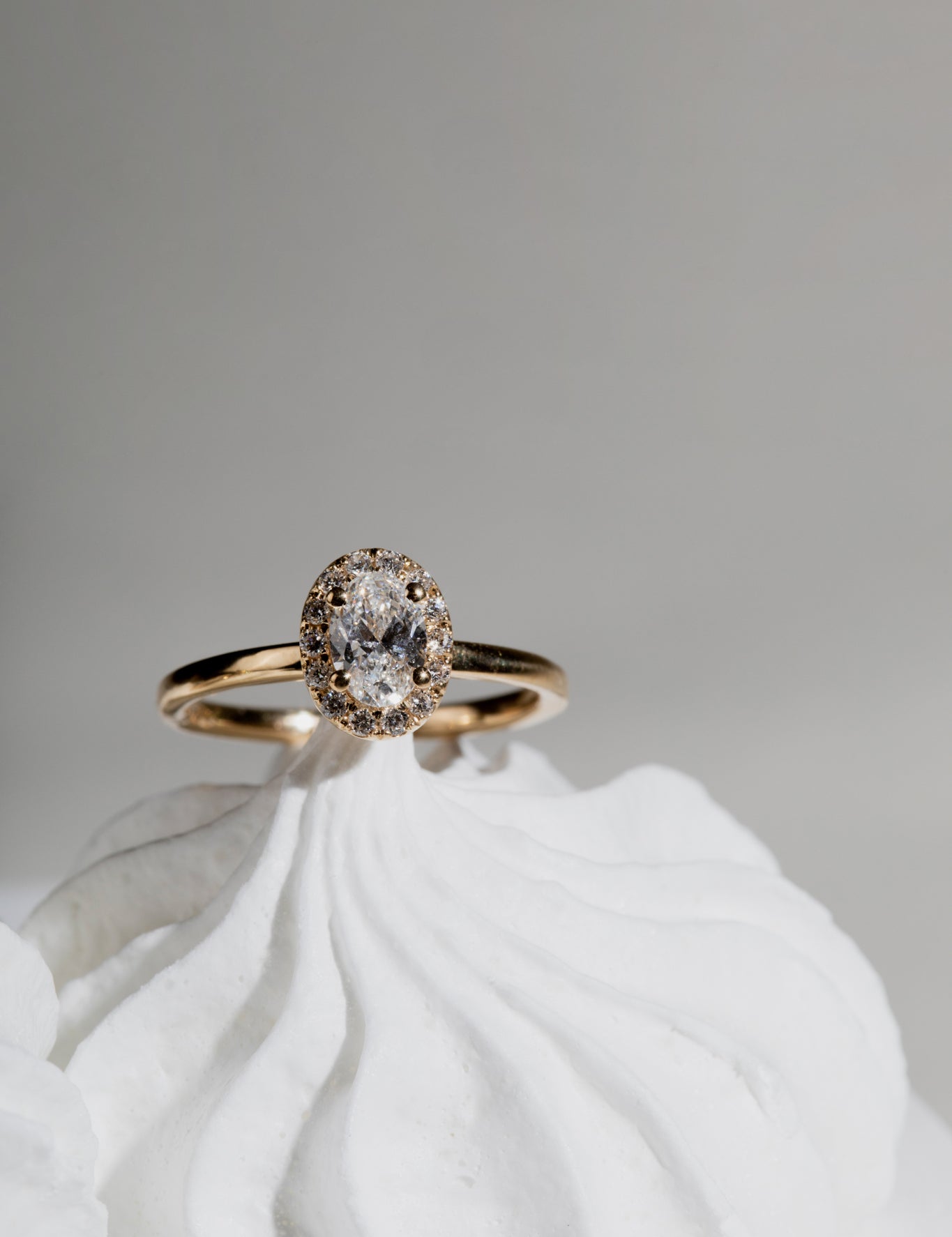 Placing your order
Our rings are carefully handmade, and we always ship them for free within 4 weeks from the date your order was placed. If you would prefer to receive your ring sooner, you can opt for 14-day express delivery at checkout.
We want to make sure you are 100% satisfied with your order, which is why we offer free 30-day returns and exchanges for all our products. Our engagement rings have a lifetime warranty, and any ring with a center stone of 0.5ct or larger, you will receive a HRD certificate that will ensure the quality of your purchase.
If after reading through this guide you still would like to get clarification on something, don't hesitate to contact us. Our experts will gladly help you choose the right fit for your budget and preferences, and have your best in mind.